The Seko prospect is Oklo's flagship discovery of five mineralised gold trends with significant gold potential. The prospects were identified after a systematic auger drilling program completed in February 2017 delineated over 6km of anomalous strike length on four trends spaced 500m to 750m apart. Follow up aircore drilling returned significant gold in all Seko anomalies, with key intercepts including:
62m at 5.26g/t gold
31m at 6.27g/t gold
49m at 12.83g/t gold
42m at 6.14g/t gold
47m at 10.95g/t gold
55m at 7.65g/t gold
32m at 10.57g/t gold
65m at 7.11g/t gold
51m at 4.28g/t gold
30m at 8.54g/t gold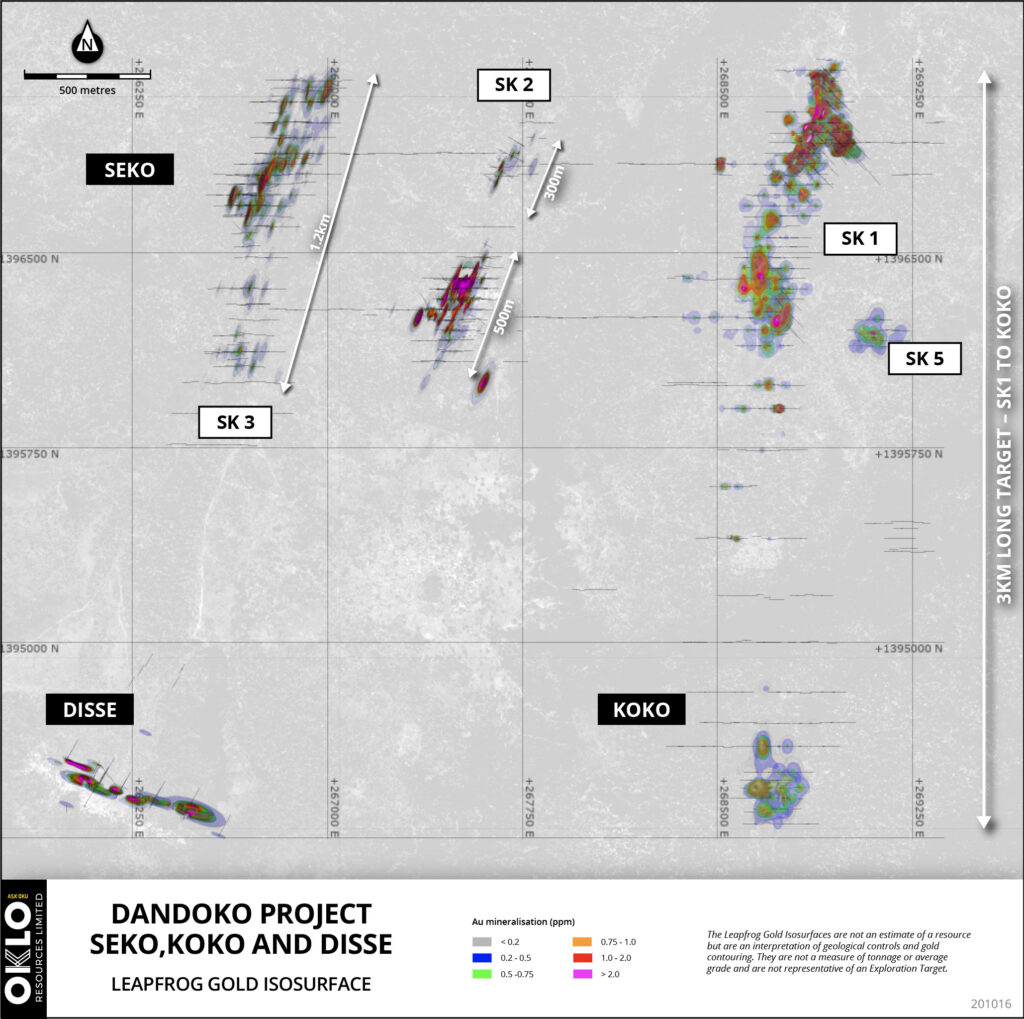 Subsequent drilling at Seko has consistently returned extensive high-grade gold oxide mineralisation and shows similarities to other large systems in the region. The Company has made a successful transition from the oxide material to the discovery of mineralisation in the sulphide host rock at SK2 and SK3, whilst at SK1 three parallel gold zones have been discovered within shallow oxide from surface to 200m depth. Additionally, results from the 2020 drilling campaign delineated a larger higher grade oxide zone at SK1 North and 3km extension to Koko, with further drilling below the oxide zone targeting Fekola style plunging shoots as a potential significant feeder structure to host a large system.
Metallurgical test work at Seko has highlighted straight forward, non-refractory characteristics of the ore, with a likely processing route incorporating a simple, industry standard cyanide leach circuit. Test work results included encouraging leach kinetics and rapid leach times, physical inputs comparable to other operations in the region as well as oxide mineralisation amenable to gravity concentration.